Report on China Guppy show,March 18-20,2016
作者:未知 来源:0  更新时间:2016-12-22 16:12:33
下文来源:孔雀鱼网 Report on China Guppy show March 18-20,2016 作者:Alan S. Bias 翻译:雪月 China Guppy Club Show March 18-20,2016 Guangzhou China; 1ST China-
下文来源:孔雀鱼网
Report on China Guppy show
March 18-20,2016
作者:Alan S. Bias 翻译:雪月
China Guppy Club Show
March 18-20,2016 Guangzhou China;
1ST China-America Global Contest
WGA:世界孔雀鱼协会,主要势力范围在欧洲,总部在德国,近年在亚洲发展迅猛.
IFGA:国际孔雀鱼协会,主要成员来自美洲地区,总部在美国
CNGC:中国孔雀鱼俱乐部,WGA,IFGA成员俱乐部
JUDGE TEAM: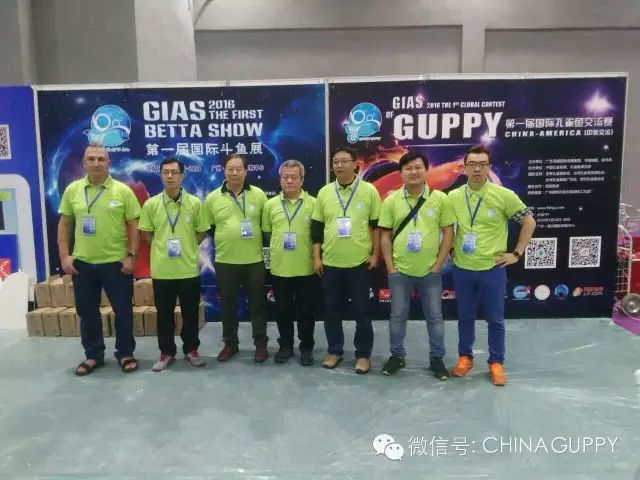 Alan S. Bias(USA), Wang Zuo Wei"Wind"(CAHINA),Frank Chang(USA), Eddie Lee(TAIWAN), Huang Rong(CHINA), Tsen hwang-jei(TAIWAN), Anshin Lu(TAIWAN)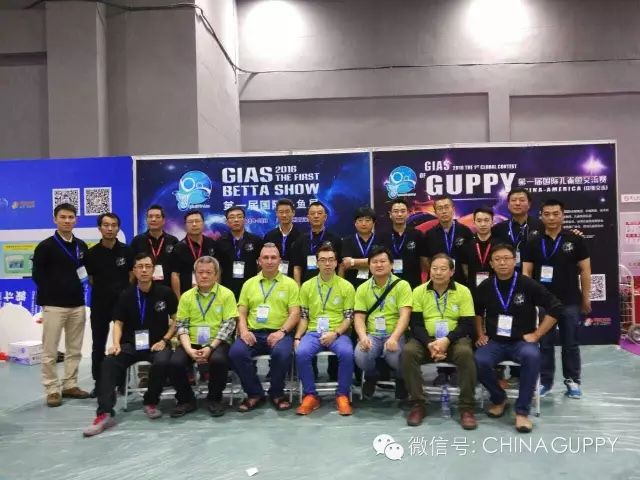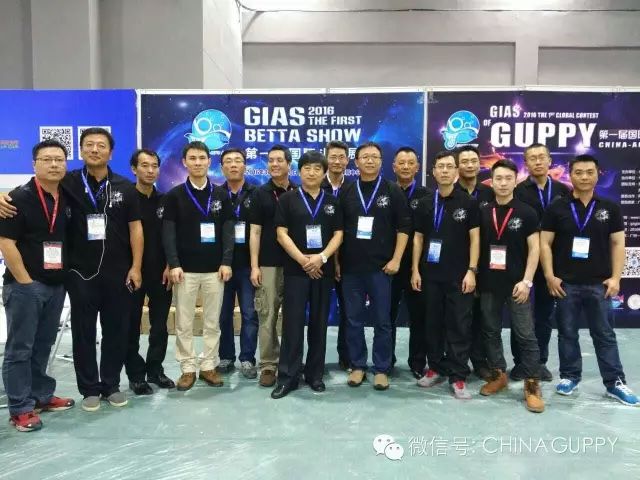 After what seemed like months of preparation fellow IFGAmember Carl Groenewegen and myself set off on our two week tour of China andTaiwan. The trip to Guangzhou, China itself comprised over 40 hours ofdriving, flights and layovers. The return trip would be nearly 50 hoursfrom Taipei, Taiwan. Upon arrival in Guangzhou, China, we were greeted atthe airport by my friend and president of the China Guppy Club Wang Zuowei. Better known to most Guppy breeders around the world as "Wind Wang".
在做了几个月的准备后,我和卡尔(IFGA成员)开始为期两周的中国大陆、台湾之行。到广州的路途包括了四十多小时的自驾、飞机和中途停留,从台北开始的返程则用了近五十小时。到达广州后,我的朋友--中国孔雀鱼俱乐部主席王作为亲自到机场迎接我们,国外的大部分孔雀鱼饲养者可能更熟悉他的英文名字Wind Wang.
The next two days were comprised of a world-wind of toursto include YiDing Aquarium Factory and the world's largest Aquarium FishWholesale and Retail Market. YiDing produces over 100,000 handmade tanksin a multitude of configurations each year. Many of which are seamlessglass fronts, utilizing a heated process to bend the glass. The live fishmarket covered many blocks and housed literally hundreds of vendors andshops. The sheer volume of fish numbers and species in itself wasstaggering. The overall state of health of the fish and reptiles leavesmuch to be desired when compared to what the average American is used to seeingin retail outlets.
接下来的两天Wind带领我们参观了亿鼎水族工厂和世界最大的观赏鱼批发零售市场。亿鼎配备了先进的生产设施,每年生产十万多个手工鱼缸。大部分是无缝玻璃前档,用热处理加工弯曲玻璃。观赏鱼市场覆盖了多个区域,毫不夸张的说,这里面有成百上千家商户正规的经营着。观赏鱼交易的数量和种类都是惊人的。对比一般美国人能在零售市场看到的状况,这里的观赏鱼和爬虫类整体的健康状态都让我惊叹及佩服。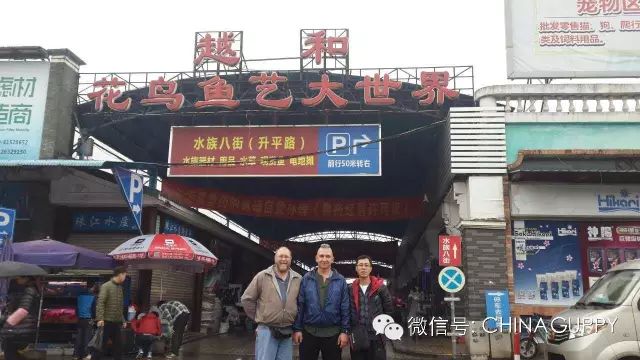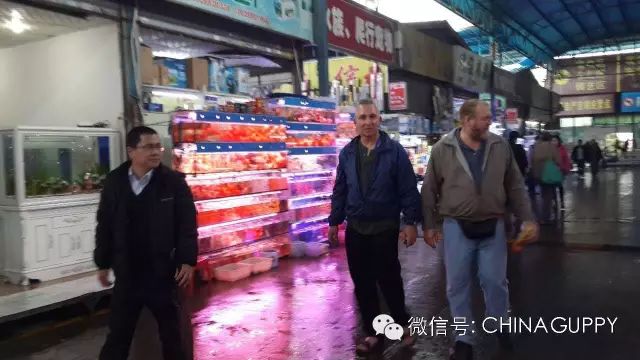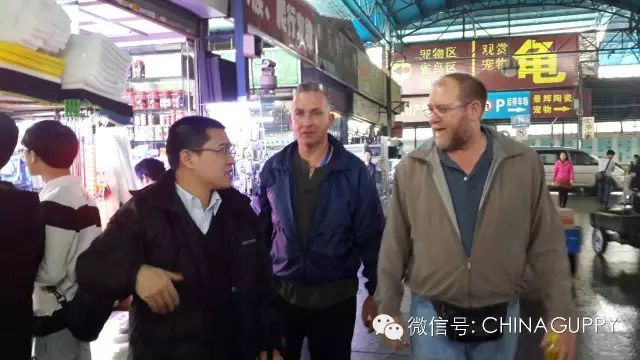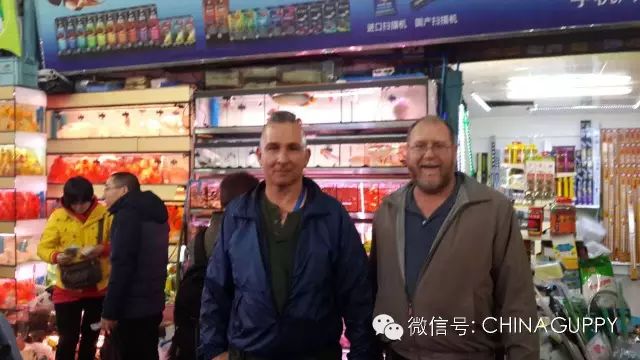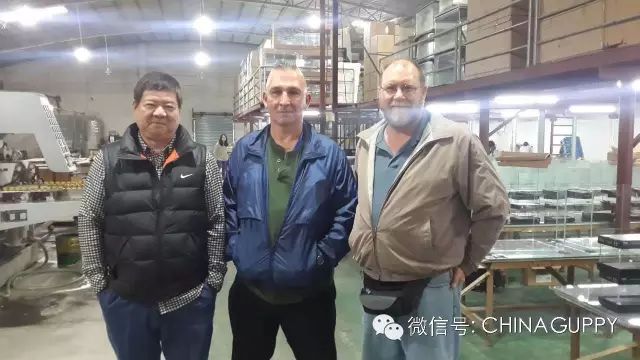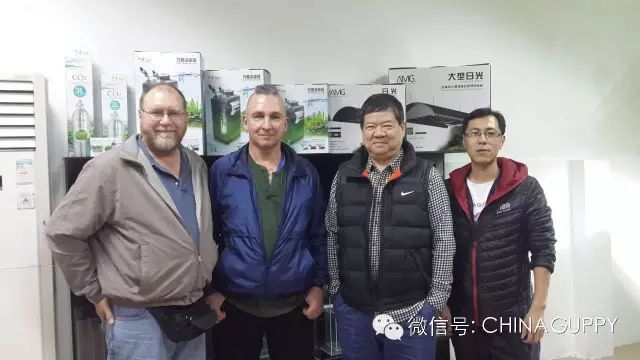 At the conclusion of each visit owners would treat us toa sit-down with their favorite varieties of hot tea. At midday a largemeal and at the end of each day a dinner consisting of 10-15 dishes of localcuisine. Over the course of a week we rarely had the same dish twice.
每次的参观结束时,业主们都会邀请我们坐下来,用他们最喜欢的各种热茶招待我们。中午及晚餐都以当地10-15道菜肴的大餐款待,在那一个星期的行程里,我们几乎没有吃到过重复的菜品。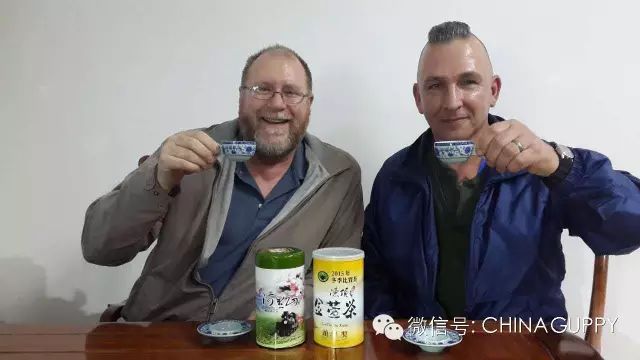 Fellow IFGA breeder and judge Frank Chang, who had leftthe States a week earlier to visit family in Beijing, China, joined us inGuangzhou the day before start of the show. Thus, comprisingInternational Fancy Guppy Association (IFGA) members in attendance as CarlGroenewegen (OH), Frank Chang (CA) and Alan S. Bias (WV). The show itselfbeing supported by entries from IFGA members: Simeon Bonev (MI), Dr. JohnFlack (IL), Joe Mason (FL), Gary & Tim Mousseau (MI), Carl Groenewegen(OH), Frank Chang (CA) and Alan S. Bias (WV).
IFGA成员和裁判弗兰克在比赛前一天到来。因此这次到场的IFGA成员有Carl(俄亥俄州)、Frank(加州)、Alan(西佛吉尼亚州)。比赛同时得到IFGA其他成员支持,并送鱼参赛,他们是: Simeon Bonev (密歇根州), Dr. John Flack (伊利诺州), Joe Mason (弗罗里达州), Gary & TimMousseau (密歇根州), Carl Groenewegen (俄亥俄州), Frank Chang (加州) and Alan S. Bias (西佛吉尼亚州)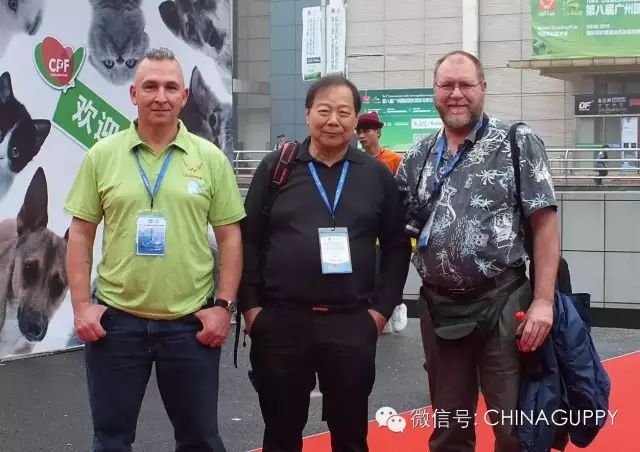 The China Guppy Club show (an IFGA member club) washeld in conjunction with the GIAS Aquatic Expo. The size of thefacilities were immense to say the least. During the course of events Iwas informed that this event is actually the smaller of two held yearly. With the larger being housed next door in a much large venue utilizing 4-5 fivestories. Show tanks were both individually lit and additionally frombuilding overhead lighting. Along with the Guppy Show, a Betta andSkate / Ray shows were also held. Additional to this were large eventsfor turtles, snake, reptiles and spiders. Numerous displays of AsianArowana and Koi were also present.
这次的中美孔雀鱼交流赛由中国孔雀鱼俱乐部(IFGA会员俱乐部)和GIAS水族展览公司共同举办。比赛所配备的设施精良,让人赞赏。我全情投入到比赛过程中,并被告知这其实是一年两次的展会中规模较小的一次。(展馆另外会举办占地4-5层大楼的大型展览。)每个比赛缸都配备单独照明,另外展馆的顶部照明也十分充足。除孔雀鱼比赛外,还有斗鱼和鳐鱼的展览,龟类、蛇类、蜘蛛......等爬虫类的展出。大量的亚洲龙鱼和锦鲤的展出让人叹为观止。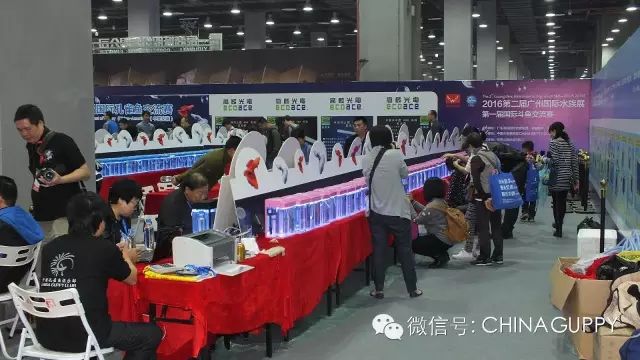 One of the more frequent comments from attendees of the17th World Guppy Contest held 2014 in Tianjin, China was the age of thoseattending the show. I found little different at this event with the vastmajority being in their 20's and 30's. Interest in breeding guppies hasnever been greater.
自从2014年天津世界杯比赛以来,我最经常听到的评论是关于中国孔雀鱼爱好者、参赛人员的年轻化。我发现这次的比赛也是差不多的情况,大部分的爱好者都在20多、30多的年纪。他们表现出对孔雀鱼饲养极为浓厚的兴趣。
The show itself was to be judged under World GuppyAssociation Standards (WGA). Any issues arising before, during and afterjudging deferred to WGA standards when possible, and when not wereaddressed by local rules or Judging Team discretion. For those withfurther interest in WGA standards here is a link to them: http://www.world-guppy.org/wgc-category.html (last checked 4.4.2016).
这次比赛的评分标准采用WGA标准。在赛前、赛中及赛后所遇到的问题尽可能的参照WGA标准,如不适用,则参照当地规则或由裁判组判定。
Prior to the start of the show all entries were sorted,logged and entered on show forms the night before. The total number ofentries for the show would slightly exceed 350 pairs, or 700+ fish. Atthis time by consensus of the Judging Team it was decided to prejudge allentries before actual benching of entries the next day. This occurred onthe morning of Friday, and would reduce the average number of entries in eachclass from 20 to 10 or more. Later in the day each judge wouldindividually prejudge remaining fish in each class, selecting their preferredtop three fish. From the total votes for each class a total of four fishwould be selected for final judging.
比赛开始的前一天晚上,所有的比赛鱼都被分组、登记入表。一共有350多组鱼(700多条)参加比赛。裁判组一致同意对参赛鱼进行预筛选,这在周五早上进行,并使得每个组别的入选鱼数控制在10-20之间。当天晚些时候,每个裁判对各组鱼再进行预选,选出他们心中各组的前三名。经投票,每组得票的前四名将进行详细打分。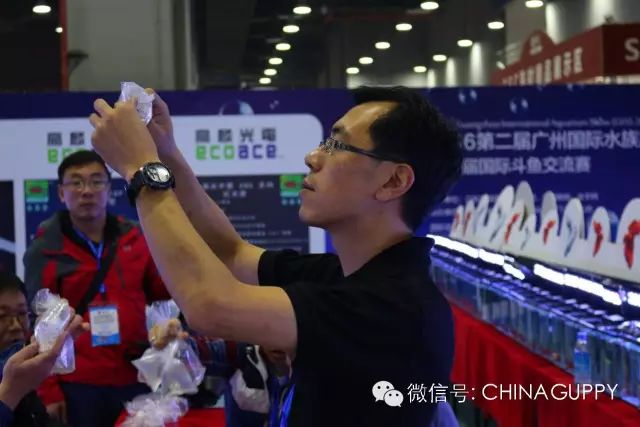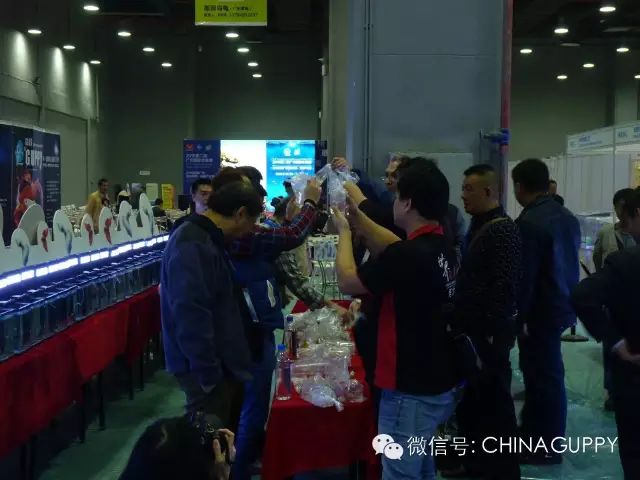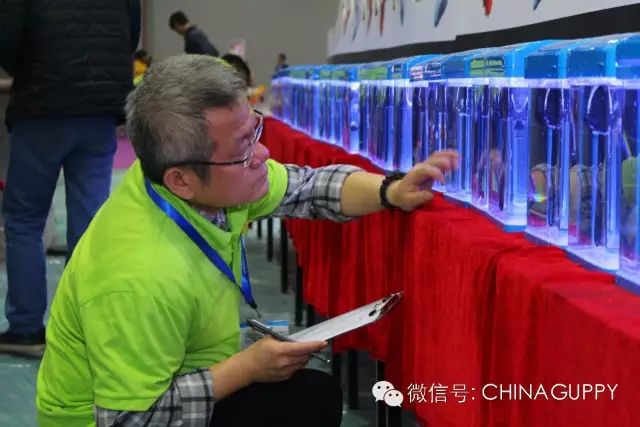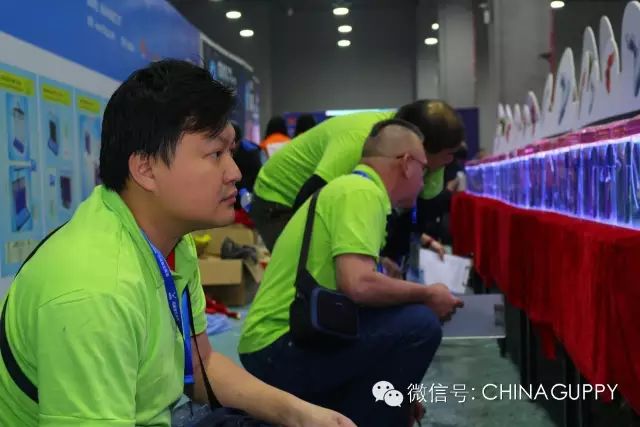 Final judging occurred during the afternoon, with eachjudge pointing in full, according to WGA standards, the top 4 fish in each ofthe 18 classes. Each judge individually scored a total of 72 fish. Only a couple of minor issues arose during judging and each was in the endresolved by consensus of the Judging Team. Awards were given for 1st,2nd, 3rd place in each class.
下午进行最后打分,每个裁判根据WGA标准对18组鱼的各前四名进行评分。这就是每个裁判都要对72组鱼进行详细评分。这过程中只有极小问题被提出,并由裁判组一致判定解决。奖项的设定是每组评出冠、亚、季军。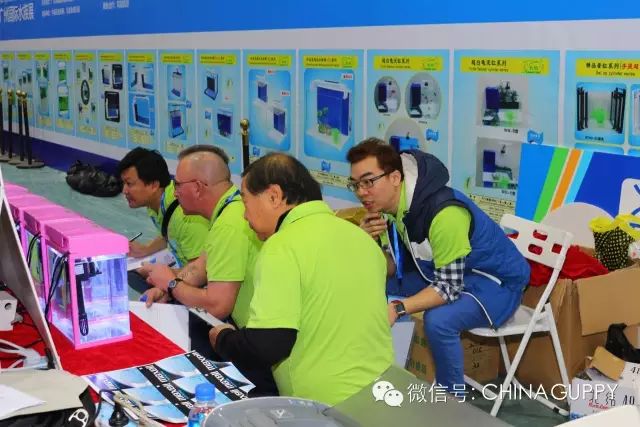 Points were tabulated that night for both class placementand Best of Show (BOS). High and low scores for each fish were excluded,and remaining scores were added together and divided by the number of remainingjudges for an average score. Best of Show was determined by the highestscoring pair from each of the class winners. The point totals indicatinga Crowntail male bred by Luo Yongxiong (China) as winner of BOS. Discussions were held by the Judging Team after concerns were expressed about aCrowntail being named BOS over delta entries.
According to best information this had not occurred inany prior shows. A final decision was withheld until the nextmorning.
当天晚上,每组的评分都被登记入表格,以算出名次和全场总冠军。每对鱼得到的最高分和最低分都不作计分,剩下得分计算平均分。全场总冠军在每组的最高分中选出。最后得分最高的是由中国罗永雄饲养的冠尾。对冠尾优于三角尾取得全场总冠军,现场有提出不同意见,裁判组对此进行了讨论。根据所得信息表明,以前的比赛从没有出现这样的结果。最后表决在第二天早上进行。
The next morning the Judging Team held further discussionthe the matter of BOS placement. Consideration was given toward furtherjudging all Class Champions against each other, along IFGA judging style. In the end, by consensus, it was agreed to allow BOS standings to remain asindicated. It being felt that each class winner had been judged to itsown standard. That to judge each class winner against another would onlyallow for individual breeder preferences to potentially bias the endresult. A sound decision on the part of all Judging Team members.
第二天早上,裁判组对全场总冠军的归属问题进行了再讨论。也曾考虑根据IFGA的评判标准对每组鱼的冠军进行重新打分。最后一致同意全场总冠军仍由冠尾获得。我们能看出,每个组别的获胜鱼都是根据自身组别的标准来裁定的,如果横向的把各组获胜鱼进行比较,只会导致饲养者过多关注最后比赛结果而产生偏好。裁判组给出了合理有力的决定。
I'd like to point out that this pair is now swimming inthe tanks of Carl Groenewegen (USA). Along with several other pairsgifted to him by breeder Luo Yongxiong after the show.
我想在此透露一个消息,全场总冠军这对鱼现在正养在卡尔(美国)家中,还有同线的几对鱼都是由罗永雄赛后送给他的。
In final, I will take the liberty on behalf of IFGAmembers Frank Chang, Carl Groenewegen and myself, I would like to express mysincere thanks to our GIAS sponsors and host members of the China GuppyClub. It was a genuine pleasure to represent not only the IFGA, butAmerican breeders in general at this event. Finally, to my friend WindWang, who approached me at the WGC in Tampa, Florida last year with aninvitation to both attend and judge at this international event.
最后,我谨代表IFGA成员弗兰克、卡尔和我向赞助商、主办方GIAS和中国孔雀鱼俱乐部表达最真诚的感谢。
对于我来说这是莫大的荣幸能代表不仅是IFGA,还有美国大众的孔雀鱼爱好者来到中国参加这次盛事。最后谢谢我的朋友王作为,感谢他去年在弗罗里达州坦帕参加第17届孔雀鱼世界杯的时候与我结交,并邀请我参加和担任这次比赛的裁判。
The hospitalityand sincere nature of the Chinese people during our travels were in themselveswell worthy of a trip to the other side of the world…
我们在行程中感受到的中国人民天生的热情和真诚,完全值得这次我们飞越半个地球的路途。